All Boobs Are Created Equal: Bralettes For Every Bust Shape And Size
Bralettes have made their way into becoming wardrobe staples this year. They're a sexy, yet decent way to accessorize an asymmetrical top, or plunging neckline. However, many of them don't really work well for women with bigger busts because they offer little to no support. Over time, there have been some companies that went out of their way to make bralettes for women of all bust sizes. But, they are not as well known. So, for all of the women out there who have been unable to find a bralette that works for you, here you go! Bonus: We're also going to show you how to style these babies! No need to stare enviously as women pass you rocking their bralette because now you can too!
Bralettes For Large Busts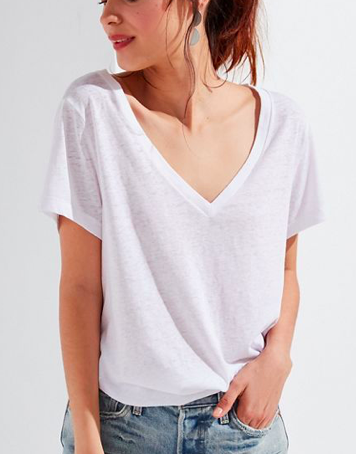 Having big boobs is a blessing and a curse. Any woman that has them will understand this statement completely. It can be hard to find clothes that fit right because the top half of you may not be the same size as the bottom half of you. This bralette is perfect for the ladies who have a little bit more going for them on the top because it has mesh lined, wire free cups. This will ensure that your boobs will stay in place and not droop on you by the end of the day. This bralette would look great when paired with a cardigan, V neck tee, and some skinny jeggings. It is just the right amount of sexy and sophisticated.



Bralettes for Medium Busts
So, this bralette is for the ladies who may not have large busts, but they do need a bit more support when it comes to bralettes. This one offers just the right amount of support without being too big or bunchy. This bralette features a hook and eye closure so that you won't have to worry about anything coming loose while out with friends. For the warmer months this bralette can be worn simply with a pair of jeans or shorts and some sandals. However, when the weather outside is frightful, this will look great under a sheer white blouse with a simple necklace to grab everyone's attention.
Bralette for Small Bust
Having smaller boobs has typically been looked at as a bad thing, but it actually has a ton of advantages. First things first, you can typically pull off wearing no bra and most people will not even bat an eyelash. Also, you have the freedom to basically choose whatever bralette you want, as you don't need as much support as women with larger busts. This bralette is a cute choice because it is simple and will match basically everything. It can be worn in all seasons, as long as it is paired with the correct things. For the colder months, pair this with an oversized sweater and a comfortable pair of jeans so that you will look hot, but also be able to get all of your errands done in comfort!
Cover image via More