5 Trends you need to embrace by May
Yellow
Fact: Yellow is having a moment right now; Opinion: 'Millennium Pink' is the look of the season, if you're a fucking drag. Yellow, in every shade, was an early favourite for SS17. Even better news: it looks great with a tan. If you're not completely sold on looking like a human highlighter via head-to-toe yellow, start out slow with a pair of mustard slingback shoes or pleated shorts-- you're welcome.
SS17 RUNWAYS FEATURING THE TREND: Pucci, Salvatore Ferragamo, Jil Sander, no. 21, Versus Versace, David Koma, Mulberry, Tibi, Lela Rose, 3.1 Phillip Lim, Sies Marjan
All Things 80's
Some fads, like cabbage patch kids and rat tails, are free to rest in peace with the yuppies. Others, we welcome back with open arms and broad shoulders. No, really; despite being public enemy #1 on most people's sartorial hit list, there's absolutely no denying the prevalence of big shoulders on the runways for this spring and summer. We all know the over-the-top Balenciaga shoulder pads that are the stuff of linebacker's wet dreams, but shoulder pad skeptics might want to try Balmain's subtly structured options or the rounded style chez Jil Sander. Other 80s mainstays, like mini skirts, lamé everything; and leather, see Top Gun, are making a comeback.

SS17 RUNWAYS FEATURING THE TREND: Moschino, Isabel Marant, Rodarte, Saint Laurent, Haider Ackermann, Topshop Unique, Ashley Williams, Mother of Pearl, Simone Rocha, Chanel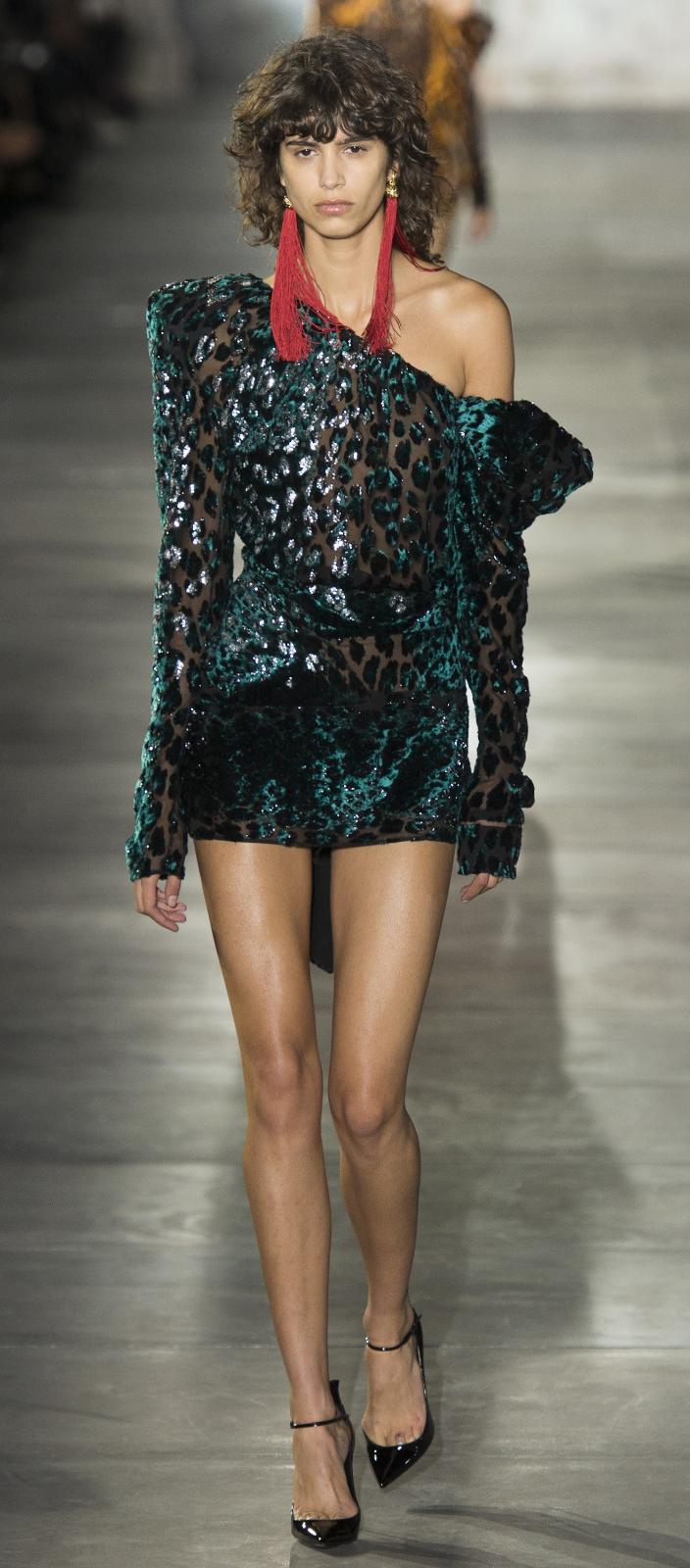 Stripes
Florals for spring may not be groundbreaking, but, neither are stripes for summer (hello, every nautical-inspired stereotype in existence!). But what makes them fresh this season is the wide range of variety in the print we saw. Whether you're feeling pinstripes, as seen at Mulberry and Lanvin, or are more enticed by Marc Jacobs' bold block lines, there's something for everyone. With all the vibrant colours and varied styles, we promise you won't look like a walking J.Crew commercial. Unless you're into that, in which case you'll be pleased to know that they also showed stripes. See? They're everywhere.

SS17 RUNWAYS FEATURING THE TREND: Mulberry, Marques' Almeida, Marc Jacobs, Opening Ceremony, Rosie Assoulin, Self-portrait, Lanvin, Victoria Beckham, Tibi, Johanna Ortiz, Jil Sander, Brock, Monse, Carolina Herrera, Rag & Bone
Ruffles
If you've always dreamt of dressing like a Victorian-era noble lady, or Jerry Seinfeld circa puffy shirt, this season is your time to shine. Like allergy-spawning pollen, ruffles are absolutely everywhere right now. They're on your dress, they're on your sleeves, and they're even on your loafers. Try the trend on for size this summer with a romantic-looking flowy dress to make you feel like you're about to meet your French lover at a café to discuss philosophy over pretentious cheeses and wine. For those desperately seeking an answer to the workplace summer uniform conundrum (because unfortunately no, you can't wear shorts and a tank top), ruffled trousers are a godsend. They're dressy enough while still being ultra-comfortable and lightweight.
SS17 RUNWAYS FEATURING THE TREND: Rosie Assoulin, Zimmermann, Tome, Ryan Roche, Diesel Black Gold, Dsquared2, Giamba, Alberta Ferretti